Ticket & Patron Services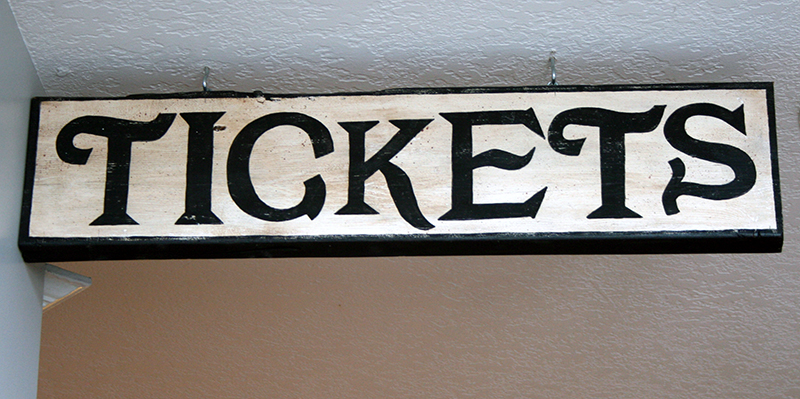 Ticket Information
Tickets (including dinner theatre) can be purchased electronically in advance via events listed on our website. Tickets for most events in a regular season go on sale approximately 60 days prior to the first performance date. Tickets for our abbreviated 2021 season will go on sale when/as events are confirmed. Dinner theatre tickets are only available for advance sale by phone or our website. All other tickets can be purchased electronically or at the door; we accept cash, personal check, and credit/debit cards.
Dinner theatre is not offered at every performance. Some productions may not have any dinner theatre performances. When available, dinner theatre tickets may include a follow-up from the dinner theatre coordinator to indicate preferences for table mates, subject to availability. 
All tickets are general admission (no option to select seats or seat assignment by number). Roosevelt Hall is handicap accessible via side entrance/ramp. Please inquire with the box office attendants for assistance.
Adult theatre ticket prices are generally $18 for general admission and $35 for dinner theatre. K-12 student ticket prices are $10. Concert events are generally $15 with no K-12 student discount available. Please note individual performance prices may vary. Please review each event for its specific ticket prices and options.
---
Patron Services
Guests at all Prairie Wind Players sponsored events (primary season) can enjoy a modest selection of beer, wine, and concessions (pop, water, candy, popcorn) at each performance. Items are available for purchase approximately 30 minutes before event start time and also during most intermissions.
Group Discounts and Arrangements
We love hosting groups of 10 or more at Roosevelt Hall! Group discounts and arrangements are available on a first-come, first-served basis for prepaid groups of 10 or more based on availability. Not all performances have a discount ticket rate, but our ticket office can provide information on special arrangements (seating preference, etc.) to ensure your group has priority.
In most circumstances, we require a 50% deposit by credit card for your group at the time of order, with payment in full (remaining balance) at least three days before an event date. We require payments for group tickets by credit card; however, we can accept personal checks for members of PWP if received more than seven days in advance of an event.
Groups of 20 or more must be arranged and fully prepaid by credit card at least two weeks in advance of an event.
Not sure exactly how many will be in your group order? We can still work with you on the details and offer flexible arrangements. Contact the ticket office for more information.